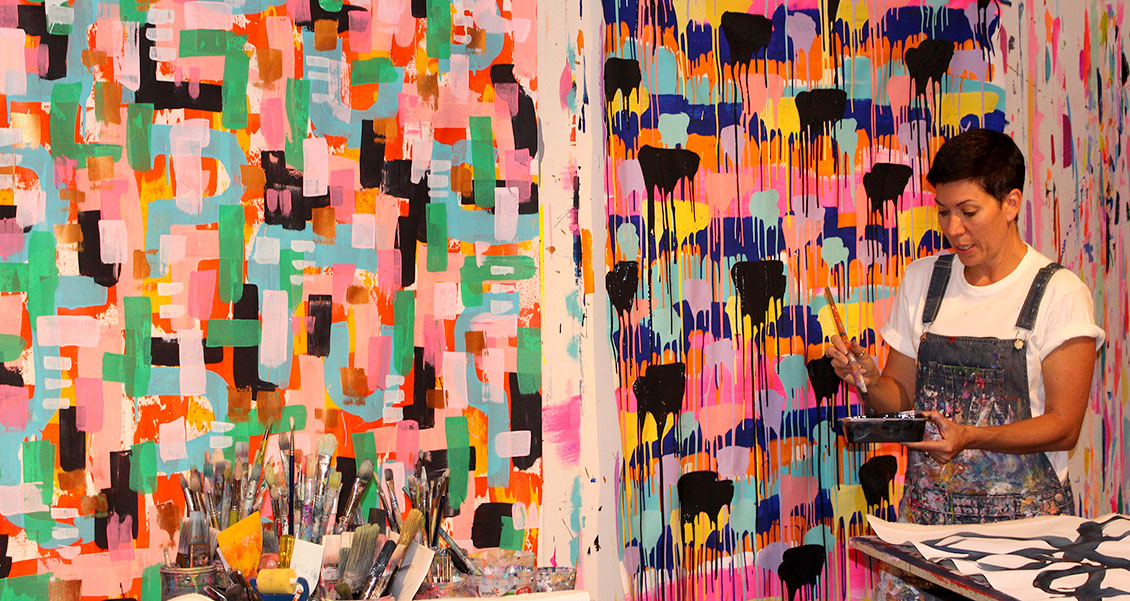 "First and foremost, I'm a colour person…"
As I walked into her Unley studio, Tiff Manuell was putting down a layer of paint on a fresh sheet of canvas. It was enthralling to watch her as she explored lines and patterns in a deep navy—my favourite colour.
Here I was with the opportunity I'd been waiting for since I was eight years old: the chance to learn from my idol. Questions had been flooding my head all day and as we sat down to chat, I felt like the words started to fumble out at a rate of knots.
"What is it that inspires you to design and create?" I started with.
Tiff, who studied fashion design at RMIT, began an unbelievably funky range of products under the name Happy House, and now creates the most incredible pieces of wearable art, provided an answer that surprised me.
"First and foremost, I'm a colour person, so colour is what inspires me," she said, as if I hadn't realised that from purchasing her products previously. "But sometimes I'll deliberately scan for inspiration through Pinterest with pins like colour palettes or retro prints or generally anything that might jump out at me.
"In the end though, I think what's important to me is to take that inspiration, whether it be from online or a piece of designer work that comes across, and to let that manifest before going back to it after a few days.
"I think that somehow it then becomes your own… it's like a process of absorbing lots of different information and it then becomes intuitive."
And that certainly shows in Tiff's work, with each canvas-PVC bag or piece of jewellery holding a unique and eclectic mix of pattern, colour and shapes. Whether it's a soft, wintery blend of brush strokes or a vibrant and geometric form, no two Tiff products are the same. Perhaps that's part of the appeal; I know it certainly is for me!
"Plus, I tend to begin with an idea and it often goes pear-shaped," she laughed. "It's not always totally different from where I began, you know, I still have my heart set on a particular thing but more often than not, I don't want it to be rigid."
And thus truly started a long conversation that got me thinking about how much I appreciated Tiff's individuality as an artist and designer. She was very clear that this was an important factor all her staff members have to adhere to, with imagination being a key component behind every single piece that walks out the studio. It really is impressive!
If you are keen to hear more, stay tuned for Part Two of this wonderful chat in the coming weeks. And you can purchase Tiff's products here.

Product images courtesy of www.tiffmanuell.com