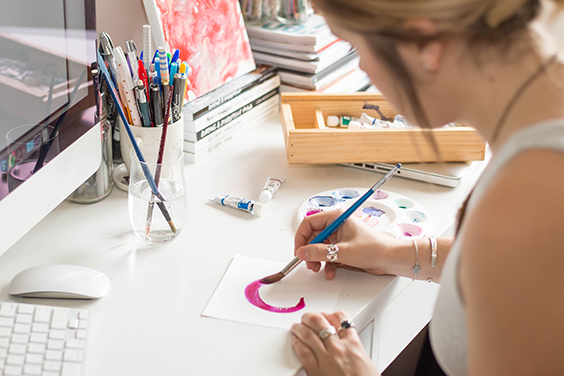 Wanting to learn brush lettering? Looking to further your watercolour skills? Adelaide's Doris Chang from Little Sister Co. has the answer.
Held upstairs in Brick + Mortar, the very talented Doris shares the secrets to her success.
From the best way to hold your tools, through to perfecting how much water and pigment your brush should hold, she covered it all in the two workshops I attended.
Brush Lettering
I started the morning practicing strokes using a sumi brush, typically reserved for Chinese calligraphy.
As an artists who's only ever used traditional watercolour and acrylic brushes, it was an insightful experience. Knowing I was working with a new brush meant I focused on how best to grip it in my hand, while alternating pressure between strokes. I finally had the chance to practice the line work I'd been attempting for months.
Towards the end of the two hour class, I certainly hadn't perfected the writing techniques, but I'd written a handful of almost-Instagram-worthy quotes without too much fuss so I was pretty bloody excited.
Within minutes of that workshop ended, I was onto the next… Talk about being enthusiastic.
Watercolour Illustrations
I'd been looking forward to the watercolour illustrations class for months after eyeing off the Little Sister Co. stationery on every social media account I had. Although our styles are completely different, I knew I'd be able to learn something new to help better my own work.
We looked at blending methods, wet on wet styles, and mixing colours for organic materials before attempting to paint a blossom from the bouquets of native Australian blooms in the middle of the tables.
I won't give too much away (you'll have to attend the course yourself if you want to reap the rewards), but I can tell you that I learnt valuable techniques I'd never tried in over five years of practicing with watercolour!
The Results?
Four hours of pure happiness!
Asides from absorbing all the incredible creativity in the room, Doris is an absolute sweetheart who is more than happy to share her knowledge to help you better your skills. I cannot recommend these workshops enough.
However, if you attend both workshops on the same day, I recommend bringing a cushion to sit on.
Check out her website to find upcoming classes.